Dr. Honeyman's Bio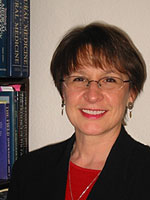 My interest in science and health care was sparked early in life. I was nearly nine years old, scared and bored, wandering in a small-town hospital hallway while my mother was admitted for her radical mastectomy. The lab tech noticed me and offered to let me peek into his microscope. A new universe of life opened to me and my interest in science was captured. I wanted to find ways to help my mother and hoped to avoid the cascade of health problems that followed her cancer surgery. As our family walked through the "revolving door" of doctors' offices and hospitals to search for help for her, we found more frustrations than solutions to problems. My attention focused on the idea of health. What is health? How do we maintain it? How do we regain health after it has been lost?
Naturally, I chose a career in health care. My experiences as a registered respiratory therapist in the adult intensive care units, ER, and neonatal intensive care unit and the transport team were an invaluable education. The approach to care was surprisingly holistic and this background continues to enhance my diagnostic and treatment skills. However, while crisis management was essential, there were other aspects of healing that became more interesting to me. I knew that health encompassed much more than avoiding death so my focus shifted to teaching people about health. I chose Parker College of Chiropractic for it's philosophy of healing as well as education in health and wellness.
Click here to read the comparison between DC and MD educational requirements.
Upon graduation from chiropractic college in 1995 I opened my private practice in Tulsa, OK. My practice emphasized gentle chiropractic adjusting and myofascial therapy. My research activities began that year with participation in a multiple sclerosis study using an integrative approach to treatment. Chiropractic adjusting, nutritional supplements, meditation, and visual imagery were used with significant success for many of the participants.
I became intrigued with Dr. John Lowe's hypothesis that inadequate thyroid hormone regulation of the tissues was the culprit behind fibromyalgia symptoms. In 1996 I incorporated his research-based protocol into my practice. While effective for many patients, some did not respond as expected to the protocol. They needed some different diagnostics and therapies, so I quickly added functional medicine testing and treatment protocols. By addressing suboptimal adrenal gland function, hypoglycemia, and sex hormone imbalances my patients' success rates increased to 85%. The research-based protocol evolved into what I termed "metabolic rehabilitation." I gradually phased general chiropractic care and myofascial therapy out of my practice to focus exclusively on metabolic rehabilitation.
During the course of our marriage (1997-2006) Dr. Lowe and I combined our talents in research projects, coauthored several articles, and contributed to books by other authors. We coauthored a book titled "Your Guide to Metabolic Health." (Publication List) While he and I no longer share a professional relationship, I still own the Center for Metabolic Health, LLC and formed a new business entity called Fundamental Physiology, LLC. I'm excited as I further my research in topics related to poor thyroid regulation, particularly in neuroendocrine disruption.